Kolar murders: MP probes Rimvydas Liorancas's checks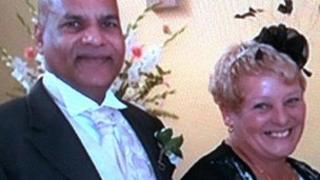 An MP says he is investigating whether proper border checks were made on a Lithuanian man accused of killing a Birmingham couple in their home.
Birmingham MP Khalid Mahmood said Lithuanian Rimvydas Liorancas, who was charged with the murder of Carole and Avtar Kolar, did not have a passport.
It is unclear whether or not he had a national identity card.
Mr Liorancas, 37, was found hanged in his cell in Woodhill Prison in Milton Keynes on Saturday.
An inquest into his death has been opened and adjourned until 3 October.
The hearing at Milton Keynes Coroners' Court was told prison officers found him when they unlocked the cells in the morning.
'Very concerned'
He was on remand for the murder of Mr and Mrs Kolar. The couple's bodies were found at their Handsworth Wood home on 11 January by their son, an officer with West Midlands Police.
The investigation into the couple's death will continue, police have said.
Mr Mahmood, who was the Kolars' MP, said he would be making inquires with the Home Office on Wednesday.
He said he was not sure if Mr Liorancas had any previous convictions.
"I am very concerned people are coming across our borders without proper checks," he said.
"I'm making inquiries today with the Home Office on what basis he was allowed into the country - and with Border Control - to see what they have to say about it.
"I have not spoken to the family about it.
"I am happy to support them if they come to me but I have not directly contacted them or plan to."
He said he did not know when Mr Liorancas arrived in the UK.
West Midlands Police said the force would not be making any comment about Mr Liorancas not having a passport.
A Home Office spokesman said it would not be making a comment while "an ongoing investigation was happening into the events that have taken place".
A Lithuanian Embassy spokesman said any questions about Mr Liorancas's entry into the UK should be directed to the Border Agency.
The spokesman added the embassy was aware of his death and was "dealing with it in the appropriate and routine manner in terms of repatriating the body, liaising with the family and local authorities."
Mr Liorancas, of Winson Green, had appeared at Birmingham Crown Court charged with murder but did not enter a plea.
At his inquest on Wednesday, the hearing was told he was taken to HMP Woodhill after appearing at Birmingham Crown Court on 23 January.
Milton Keynes coroner Tom Osborne said: "On the morning of the 28th of January when prison officers unlocked the cells, Mr Liorancas was found to be hanging.
Number of blows
"He was cut down by prison staff and CPR commenced.
"An ambulance and the prison doctor were called, however, he was pronounced dead at the scene."
He was found at 08:52 GMT the Prison Service said.
He was confirmed dead in cell 205 of House Unit 1 at 09:30 GMT, the inquest was told.
The full inquest, which may last for up to three days, will be held in Milton Keynes on 3 October.
Post-mortem examinations following the Kolars' deaths revealed they both died as a result of blunt-force trauma to the head, each sustaining a number of blows.
The Kolar family have said they wished to be left alone to continue to grieve and understood the investigation would continue and findings be presented to the coroner.