Birmingham library crane removed from city skyline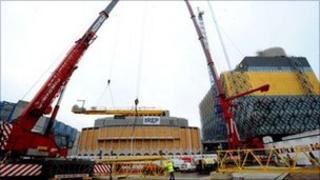 A large crane that has become a familiar sight on the Birmingham skyline during the work on the new library has been dismantled.
Contractors on the Library of Birmingham project have dismantled the last of the 100m-high tower cranes.
Centenary Square was closed to allow access to a 500-tonne mobile crane that was used to lower the tower crane to the ground and on to transporters.
The £188.8m development will have 10 storeys and is due to open in 2013.
This latest stage marks the completion of the external facade of the building, while teams of specialist contractors will continue to work on the inside.
Wolverhampton-based Carillion is working on the project with Birmingham City Council.
Carillion operations director Simon Dingle said: "So far, the team has worked over 900,000 hours on site and are now focussed on the next high-profile milestones.
"These include completion of the frieze works and the installation of the Shakespeare Memorial Room over the coming months."
Other features of the new Library of Birmingham will include a studio theatre, an outdoor amphitheatre, a recording studio and free access to the National Film Archive.