New £77m Sandwell College campus opens in West Bromwich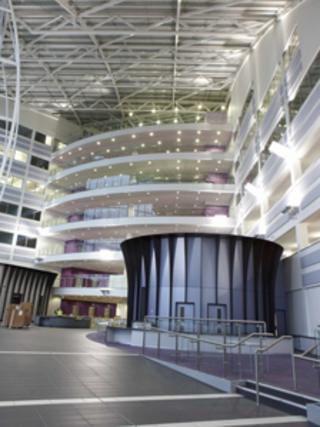 A new £77m college building has opened in the Black Country.
Sandwell College's Central Campus in West Bromwich town centre includes lecture theatres, meeting places and specialist facilities.
The college offers vocational and academic courses for about 6,000 students, mainly 16-to-18-year-olds and adult learners.
The new building is part of the regeneration of West Bromwich town centre.
Scott Upton, vice principal of the college, described West Bromwich as "a town on the up".
He said the redevelopment of the college was overdue, with some of the older buildings dating back to 1900.
Largely funded through a central government grant, the new college facilities include specialist labs for training dental nurses, radiographers and pharmacy technicians.
The new building, which has been nicknamed "the big dipper" by some local people, due to its design, also incorporates performance venues, engineering workshops and a sports centre.
The college, which used to operate at campuses in Oldbury and Smethwick, as well as West Bromwich, has now moved onto the one site at Spon Lane.