Sparkbrook community and health centre opens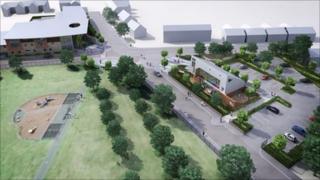 A £12m community and health centre has officially been opened in Birmingham.
The three-storey building accommodates three GP surgeries and baby, dental and stop-smoking clinics.
It is on the site of a Victorian-built church, Christ Church, which was badly damaged by a tornado which hit Birmingham in 2005.
The building will include the city council's customer service centres and replace temporary council offices in Mole Street.
Denise McLellan, chief executive of Birmingham and Solihull NHS, said the "unique centre" offered residents access to a wide range of health and community services under one roof and brought health services closer to people's homes.
'Improve lives'
Paul Tilsey, deputy leader of the Liberal Democrat/Conservative-run council, added the project was a "vital element" in the regeneration of Sparkbrook.
"It will help improve people's lives and cut out duplication of services, saving the taxpayer money in the process," he said.
"I've watched the project develop from drawing board to reality, and these are exciting times for the area."
The centre was opened by Mr Tilsey, Ms McLellan and other officials.
The building accommodates GP practices and services which were previously delivered by Farm Road Health Centre.
The centre includes four rooms for community use and events and will house services currently provided by the Sparkbrook Family Centre. A garden and community library are also included.