Castle Vale school teachers begin three days of strikes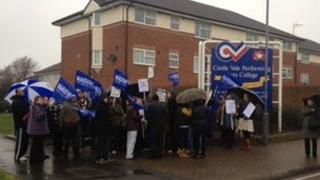 More than 30 teachers at a West Midlands school have staged the first of three days of strike action.
The teaching union NASUWT said staff at Castle Vale Performing Arts College in Birmingham say management practices are impacting on student behaviour.
Anne Brimacombe, from the union, said: "Since 2009 we've been in negotiations about the lack of support with behaviour, it is time to change this."
Head teacher Clive Owen said he was "disappointed" by the strike.
About 30 staff were on the picket line outside the school between 07:30 and 09:00 GMT, according to the union.
Ms Brimacombe said: "A ballot of our members shows 96% think issues with behaviour are holding back pupil achievement."
'Lack respect'
Mr Owen said: "I am disappointed and disturbed that the union have chosen to damage the education of our children in this way and this at a time when many students are close to taking their important GCSE examinations.
"A number of meetings with the union have been held to avoid this."
He said students in year 11 attended school for lessons which were run as normal and other year groups were asked to remain at home for the day.
An Ofsted inspection report from April 2010 found the school to be "satisfactory".
Dawn Mullings, who has a son and daughter at the school, said: "I'm all for it [the strike]. I think children nowadays don't really have the respect we had when we were at school.
"If it has to take place because the children don't seem to be gaining that respect within the classroom then so be it."
'Pupils swearing'
Another parent, who did not wish to be named, said: "It's ridiculous that they're striking over trying to sort the kids out.
"None of us seem to know why they're doing it - the teachers seem to handle the kids really well.
"I don't understand it, they're not helping by closing the school down."
The union said a further two days of strike action have been planned for 20 and 21 March, but it would be willing to suspend these if there is an approach from the school and the governing body for more talks.
Ben Ball, a union rep for NASUWT who has taught at the school for 32 years, said: "There's been no reaction from the governors, no communication, no movement, no response and so this is the end of lots of attempts to try and improve the situation."
One teacher, who did not wish to be named, said: "There are things that are happening in the school that are not being weighed up.
"For example, they've [children] got sent home by the management for not having a pencil case and then when a teacher's been sworn at by a pupil nothing's happened.
"We really don't want to be here, we don't want to strike - we've just come to a point where we've tried everything and we're now fed up."