St Patrick's parade: Floats prepared for Birmingham event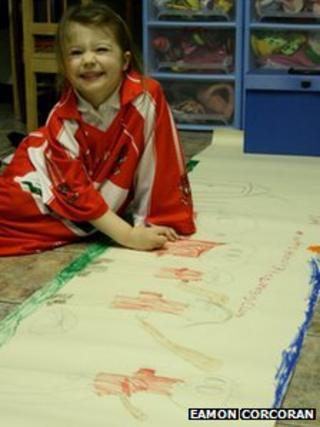 Irish sports, ancestry and line dancing are just some of the themes being represented on floats taking part in Birmingham's big St Patrick's parade.
The floats will be joined by pipes, drums and dancers for the annual procession on Sunday.
Float organisers have been busy sorting out the final touches and making last-minute preparations.
Eamon Corcoran, chairman of John Mitchels Hurling and Camogie Club, said it was planning lots of balloons in red and white club colours with players on the float on the day.
"We're just trying to work out how many balloons you need for a 44ft (13.4m) wagon," he mused.
Hurling tradition
Thirty-four-year-old Mr Corcoran, whose parents came from County Tipperary, said his father got him involved with hurling when he was 10 or 11.
"Probably about half of our team is people like myself who are second generation Irish, so our parents found us somewhere to play when we were younger and that was John Mitchels and we've kind of grown up with the club.
"So we're half people that have always been with the club and half people coming over from Ireland.
"Obviously with the economic situation in Ireland, we're getting more people, so it's becoming easier to recruit," he added.
With tens of thousands of people expected for the parade, Mr Corcoran said the event "really showcases Birmingham as much as the Irish community within it".
Francis Feeney from the Sligo Association is something of a parade veteran and this year he is involved with two floats.
One represents the County of Sligo while the other, with the theme The Feeney's of the Birmingham Post, depicts his family's links with Birmingham.
Family history
Mr Feeney explained that one of his ancestors, John Frederick Feeney, had started what was the Birmingham Daily Post newspaper.
He said John Frederick's son, John, who continued at the paper, went on to "provide a lot" for the city of Birmingham and there was now a charitable trust in his name.
Mr Feeney, who came to Birmingham from Sligo, said he got involved with such events to continue his ancestors' support for the city.
The organisation, Irish in Birmingham, has chosen a line-dancing theme for its float.
Activity co-ordinator, Trudy McGroarty, said classes had proved very popular so Irish in Birmingham had decided to go with the idea for the parade.
She said it was planning "loads of checks, cowboy hats, loads of dancing, country and western songs and a mixture of Irish songs".
The procession, which will make its way through the Digbeth area of the city, is part of the wider St Patrick's festival in Birmingham, which started on Friday.