Most wanted man Cedric Brown arrested after carjacking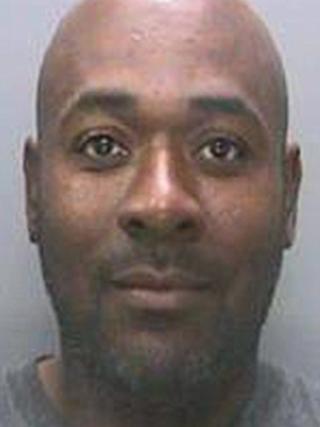 A 44-year-old described as one of England's most wanted men has been arrested after a vehicle with two toddlers inside was carjacked.
Police believe the man, understood to be Cedric Brown, had been fleeing a burglary in Slade Road, Erdington, Birmingham, on Tuesday.
The mother was pulled out of the Ford Focus before it was driven off.
It was later found abandoned with her son, aged one, and daughter, two, inside unhurt and the man was arrested.
A police spokesman said the 44-year-old was being held on suspicion of burglary and robbery.
He is also wanted for questioning over an attempted murder at a farmhouse near Bristol two years ago and an "aggravated, violent burglary" in Birmingham in 2009, "involving violence against the homeowner".
Sgt Nicholas Barnes, of West Midlands Police, said: "Several police vehicles were in pursuit and the man abandoned the Ford Focus in South Grove where he was arrested by officers who then spotted the toddlers.
'Swamped by police'
"Thankfully, neither of them was hurt and we quickly reunited them with their mum who naturally was extremely relieved.
"Officers responded to calls of the burglary within minutes... the suspects simply didn't have enough time to get away from the location before they were swamped by police."
The force was called to reports of the burglary in Erdington at about 11:00 BST on Tuesday.
Three men were seen running away from a suspected getaway car and chased by officers along Somerset Road.
In an attempt to escape, one of the men dragged a female driver out of the car and drove off with her children in the back seat, police said.
West Midlands Police said the man had been arrested following a violent struggle.
Two Birmingham men, a 19-year-old from Perry Common and an 18-year-old from Bromford, were also arrested hiding in an alleyway and are being questioned over the Slade Road burglary.
'Terrifying for victims'
Mr Brown is being questioned over a break-in at a farmhouse near Bristol two years ago which featured on BBC's Crimewatch programme.
The 49-year-old victim was slashed in the stomach with a kitchen knife and suffered cuts to his head and face as his wife was forced to watch.
Mr Brown, nicknamed "Skipper", is suspected of being one of two intruders who fled after demanding money at the couple's home in Goose Green, near Warmley.
Det Insp Jill Kells, of Avon and Somerset Police, said at the time: "This was a very serious assault and it's important we find the men responsible quickly.
"It was obviously terrifying for the victims."
Police think he may have been in the West Midlands for some time as detectives hunted for him in the Bristol area.