Student struck by police car in Birmingham dies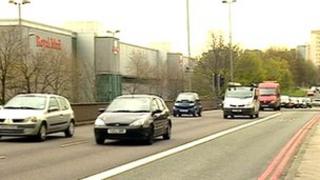 A student has died after being hit by an unmarked West Midlands Police car in Birmingham.
The 24-year-old Chinese man was hit by a black BMW as he stepped out in to the road outside Newtown shopping centre at about 19:00 BST on Wednesday.
He was taken to hospital with severe head and back injuries, but died early on Thursday afternoon.
The car had been responding to reports of a stolen vehicle but the force said it had not been involved in a pursuit.
Police said the family of the dead man, who has not yet been identified, had been informed and his parents were flying to the UK.
He had been studying for an MSc in computing at Birmingham City University and was living with friends in the Newtown area of the city.
'Necessary training'
West Midlands Police said specialist family liaison officers had been appointed to support the man's family, along with interpreters and the Chinese Embassy.
The unmarked black BMW police car was being driven by a uniformed police officer who had received the necessary training to drive police vehicles safely at speed on public roads, a force spokesperson said.
The driver of the police car and his companion - another uniformed police officer - were en-route to Aston where an officer had spotted a vehicle which was suspected of being stolen.
Their BMW was fitted with blue lights and a siren. It is believed they had been in use at the time of the crash.
Onboard CCTV from the car has been downloaded and is being reviewed, along with footage from other cameras in the area, the spokesperson added.
The officer who was driving the BMW has been suspended from driving police vehicles but remains active as a police officer.
Assistant Chief Constable Sharon Rowe said a "comprehensive investigation" had been launched to find out what had happened.
She added the matter had been referred to the Independent Police Complaints Commission, which was considering whether to carry out its own investigation.
Sally Westney, a Pro Vice-Chancellor at Birmingham City University, said: "This has come as a huge shock to the faculty and the university.
"We would like to express our deepest sympathy and condolences to parents, family and friends."
Newtown Row was closed for more than five hours while an examination of the scene took place.
Investigators have urged anyone who saw the collision to come forward.