Atherstone fire: Father recalls fire that killed his son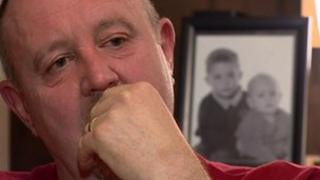 Paul Stephens was one of the last people to see his son alive on the night of a fire which claimed the lives of four Warwickshire firefighters in 2007.
He and his son Ashley, both retained firefighters, were on duty when a vegetable packing warehouse caught fire in Atherstone-on-Stour.
Ashley Stephens, 20, John Averis, 27, Darren Yates-Badley, 24, and Ian Reid, 44, entered the building wearing breathing apparatus.
None of them survived.
On Wednesday two senior fire officers, Timothy Woodward, 51, and Adrian Ashley, 45, were found not guilty of manslaughter over the incident on 2 November, 2007.
Both Mr Stephens and Ashley had responded to a call to provide support for a unit in Stratford-Upon-Avon at the warehouse fire.
Ashley was not officially on duty, but volunteered to help anyway.
When they arrived at the scene, Mr Stephens said smoke was coming out of the eaves of the building but the fire was not visible from outside and there were electric lights on in one of the first floor offices.
The former watch manager said the atmosphere was "quite relaxed" as he went to find out who was in charge and what they wanted his team to do.
The crews had been unable to apply water to the fire because it was deep inside the warehouse which was the size of three football pitches.
"The reason for putting crews in was to be able to get more hose reel into the building," Mr Stephens said.
Normally firefighters wearing breathing apparatus (BA) check each other's kit to ensure it has been fitted correctly and is in working order.
Mr Stephens said as he was on hand he had performed the routine checks for his colleague Darren Badley-Yates and Ashley.
"The last words I said to him were, 'just be careful, it's hot in there, just be careful'," Mr Stephens said.
'Never give up'
During the incident Mr Stephens said he was not aware anything was wrong even when the signal came through that there was a BA emergency inside the warehouse.
He said the emergency notification in itself did "not alarm" him because it could relate to a number of non-life threatening situations.
"From the outside it didn't give you masses of indication there was a massive fire going on inside," he said.
"The only time I saw a flame from that building was leaving at 11 o' clock at night."
But it began to dawn on him there was a serious problem when the men failed to leave the building at their scheduled exit time.
Mr Stephens said: "When Ian was brought out from the building on his own I knew we had got a tragic situation on our hands.
"As the night progressed and there were no signs of them coming out you just realise they are not going to come out on their own.
"You never give up hope do you, but by the next day you know.
"I think I knew on the night, but you just hang on to the possibility that they are going to be ok.
"As a firefighter, you know that once your air has gone, that unless you get somewhere safe where you can take your mask off, you are going to suffocate."
The cause of the fire has not been established and despite years of investigations, costing £4.5m, none of the families have learned what happened to the men inside or what prevented them from escaping.
'Blaming myself'
Mr Stephens said the truth of what happened inside may have died with the men.
He was arrested following the deaths but released without charge as he had not been commanding operations that evening.
"A lot of people at the time couldn't understand the reasoning behind me being arrested," he said.
"I asked the question at the time but wasn't given any answers."
He said like any parent he blamed himself for not having done more to protect his son and the three other firefighters who died.
"You always think... you should have done more to rescue them, which is something I wish I could have been able to do," he added.
"I always find different ways of blaming myself."