Birmingham Assay Office silver name plaque stolen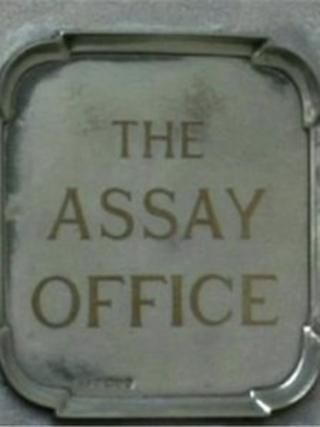 A sterling silver plaque has been stolen from the front entrance of the Birmingham Assay Office.
The plaque, which was hallmarked in 1977, has 18-carat gold lettering.
Michael Allchin, the assay master, said: "This is not something that can be passed off through the legitimate silver and jewellery trade."
West Midlands Police said officers had visited the scene but that CCTV images of the theft "were not going to give them anything".
Mr Allchin said: "We have big high steel gates and we can see [on the CCTV] some lads with hoodies - one of them leaps over with something like a cold chisel and he knocks the plaque off the wall."
The theft happened over the weekend but was not noticed until Monday morning.
The plaque was put up on the 100th anniversary of the assay office opening in 1877.
It has special hallmark for 1977 marking the Queen's Silver Jubilee.
Birmingham Assay Office is the largest in the UK, hallmarking millions of articles of gold, silver, platinum and palladium every year.