Birmingham Nature Centre's hopes for rare red panda cub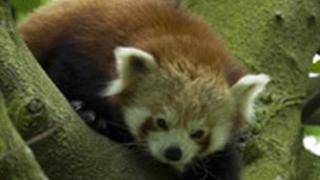 Birmingham Nature Centre hopes to have its first red panda cub after matching a pair of the endangered species.
Ling Ling, who arrived in the city from Austria in the autumn, has come out of quarantine to be introduced to Amba, a female from Dudley zoo.
The pair's arrival at Cannon Hill Park marks the "return of one of its most popular" animals, a spokesman said.
The centre is part of a breeding programme which is taking place across Europe to help protect the species.
There are fewer than 2,500 adult red pandas across the world, it said.
Martin Van Wees, European co-ordinator of the programme, identified Amba as Ling Ling's perfect mate using genetic and other tests, the centre said.
Red pandas were popular attractions at the reserve but were moved to other venues several years ago.
In 2005, a red panda named Babu famously escaped and was found four days later in a tree in Moseley.
The centre spokesman said this was not unusual as red pandas were "known escapologists".
In 2009 a red panda escaped from its London Zoo enclosure and was spotted by night security staff climbing a tree in Regent's Park.