Good Hope Hospital patient's treatment was service failure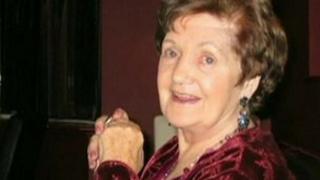 The care given to a woman in a West Midlands Hospital was so far below standard that it amounted to service failure, the Health Ombudsman says.
Clara Stant, 78, from Four Oaks in the West Midlands, was admitted with abdominal pains to Good Hope Hospital in Sutton Coldfield in May 2010.
A nurse shouted at her when she asked for a bed pan and she was discharged without a proper care plan, the report said.
The trust must pay her family £750.
The Heart of England Foundation NHS Trust's handling of the complaint made by Mrs Stant's family was branded maladministration in the report.
'Recognised standards'
However, a complaint by the family that the hospital had failed to diagnose the stomach tumour and lung cancer from which she died in August was not upheld.
After being admitted, Mrs Stant was treated for a urinary tract infection and was discharged 10 days later.
Her family said her condition was getting worse and on 19 May said they were given an assurance by the ward medical staff that she would not be discharged until her condition had significantly improved.
But Mrs Stant's daughter, Julia Hawkins, said the family was later given about 10 minutes' notice that she was being sent home.
Her release was organised by a second-year junior doctor and the Ombudsman said that she was appropriately assessed for discharge.
But her mobility should have been an issue and there were no plans in place to manage her incontinence.
"In the light of these failings, I conclude that the trust did not act in accordance with recognised quality standards," the report stated.
'Unnecessary distress'
"Overall, I find that these aspects of the care provided fell so far below the applicable standard as to amount to service failing."
The Ombudsman said the trust had acknowledged that her discharge from hospital was not carried out properly and had since apologised, but it offered no explanation or response regarding the nurse shouting at her.
"In consequence, of this service failure and maladministration, (Mrs Stant) and her family have suffered an injustice."
The trust must also now produce an action plan which will be monitored by NHS organisations.
Up to £500 compensation is for unnecessary distress caused to Mrs Stant's family and a further £250 is for extra distress caused by the poor handling of the complaint.