Meriden Gypsy protesters appeal against order to quit camp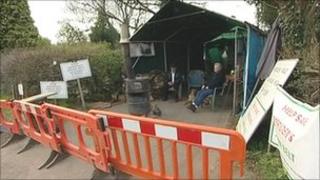 A bid by campaigners opposed to an illegal Gypsy site in the West Midlands to keep their protest camp for another a year will be heard by Solihull Borough Council later.
Residents Against Inappropriate Development (Raid) were ordered to move their temporary shelter by 29 April.
The Gypsies have reached an agreement with the council to leave the site in Meriden by 31 March 2013.
Raid have said they will not to leave the site before the Gypsies do.
Their chairman David McGrath said: "You cannot have one law for Gypsies and another for the settled community."
The Gypsies put up eight caravan pitches in Eaves Lane in 2010.
In July 2010, the council refused to give the Gypsies retrospective planning permission, a decision upheld by Secretary of State Eric Pickles last October.
in March 2012 a High Court judge rejected their appeal against a decision which ruled their development could not remain on the Meriden site.
The Gypsies had claimed the council did not provide viable alternative accommodation.
Speaking before the agreement was reached, one of them, Senga Townsley, said her biggest fear was "the thought of not knowing where you're going to wake up tomorrow".
Solihull Borough Council's planning committee will consider the application from Raid in private at a planning meeting starting at 19:00 BST.