Birmingham riot deaths: Men were in 'hyper mode'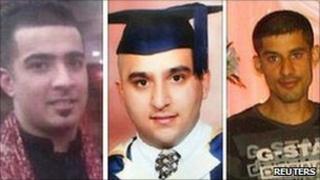 A group of between 50 to 100 men protecting businesses from looters in the riots were "in hyper mode" the night three men died, a court has been told.
Haroon Jahan, 21, and brothers Shazad Ali, 30, and Abdul Musavir, 31, died after being run over in Dudley Road, Winson Green, Birmingham.
Eight men deny their murder at the city's crown court.
Tariq Jahan, Haroon's father, said he tried to calm some of the group down.
They were "riled up" on the evening of 9 August last year, he said.
Some of the young men in the group covered their faces and armed themselves with sticks and stones, which were flung at passing vehicles.
'Wound up'
Several shops were targeted by looters on the previous evening prompting them to close early and the local community gather together on the streets, the court has heard.
Mr Jahan and his two sons were part of the group on Dudley Road on 9 August.
Mr Jahan said: "I was trying to keep them under control and trying to make them understand that we are we are not here to attack people, we are here to protect our homes and businesses."
He told the court he witnessed stones or bricks being thrown by some members of the group at a Saab car which smashed the back windscreen.
Some men chased it for about 20ft along the road.
A passenger grinned at and "wound up" the crowd, he added.
The three men were injured at about 01:15 BST and died later in hospital.
The defendants include Adam King, 24, of Redhill Road, Kings Norton; Joshua Donald, 27, of Kelsall Croft, Ladywood; Ian Beckford, 30, of Holly Bush Grove, Quinton and Ryan Goodwin, 21, of Cranford Street, Smethwick.
The other four accused in the case are Shaun Flynn, 26, of Wandsworth Road, Kingstanding; Everton Graham, 30, of Mount Pleasant Avenue, Handsworth; Juan Pablo Ruiz-Gaviria, 31, of Coplow Street, Ladywood and 18-year-old Aaron Parkins, whose address has been withheld by the court.
The trial continues.