Diamond Jubilee church beacon firm stops taking orders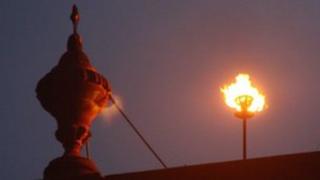 A Birmingham company making Diamond Jubilee beacons for church towers has had to stop taking orders to ensure they can have them ready in time.
Bullfinch Gas Equipment Ltd, based in Tyseley, have had 600 orders for the gas-powered beacons, 100 more than they were originally expecting.
Managing Director Andrew Williams said he was confident they had met "80 to 90% of the demand".
The firm is also making the burners used in the Olympic relay torch.
Mr Williams said the company was approached by the organisers of the Queen's Diamond Jubilee event , which takes place on 4 June, after it had provided beacons to be lit along Hadrian's Wall in 2010.
The two metre (six foot) high beacon, which uses propane gas cylinders, can burn for up to two hours.
The burner for the Olympic torch that will be carried by a relay of runners was also designed and built by the firm.
It had to be able to work in extreme weather conditions, including 95% humidity, rain and snow, wind speeds of 35mph and up to 50mph and at an altitude of 400 feet above sea level.