Midland Metro extension: Building work to begin in 2013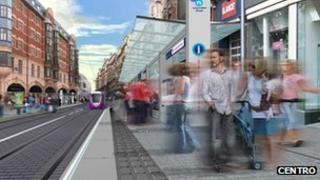 Work will begin on extending the Midland Metro through Birmingham city centre in 2013.
The extension will provide a fast link between two major railway stations, New Street and Snow Hill.
It is part of a a wider £127m project that will see a fleet of 20 new trams running between Birmingham and Wolverhampton.
Engineering company Balfour Beatty has been named as the preferred bidder to build the extension.
Operators, Centro, estimate 3.5m passengers will use it each year.
Trams will go from the existing stop at St Paul's via a new stop at Snow Hill and then along a £9m viaduct.
It will then go down Upper Bull Street, Corporation Street and on to Stephenson Street, stopping outside a new entrance at New Street Station.
Construction work is scheduled to be finished in 2015.
The Midland Metro celebrated its 10th anniversary in 2009.
When it opened on 31 May 1999, it was the first tramway for more than 40 years to run partly on streets in the West Midlands.