Birmingham Children's Hospital staff 'gave baby full attention'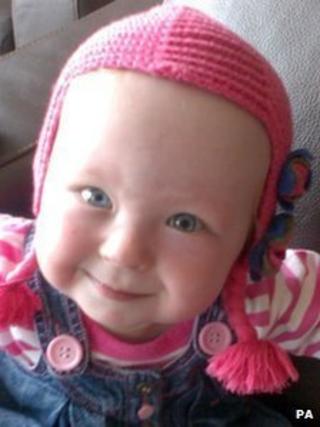 A baby who died of heart failure in hospital after days of alleged neglect had the "full attention" of medical staff, a doctor said.
The family of Hayley Fullerton, who died in 2009 aged 13 months, have accused staff at Birmingham Children's Hospital of ignoring their concerns.
An inquest has heard that on 9 November an X-ray revealed the girl's right lung had collapsed.
Dr Zdeaka Reinhardt stressed steps had been taken to treat her.
Hayley was given physiotherapy on 10 November but on the morning of 11 November both lungs collapsed and she went into cardiac arrest.
'Not ignored'
At an inquest at Birmingham Coroner's Court, her family have accused staff at the hospital of neglecting her and ignoring their concerns about her breathing as she recovered from corrective heart surgery.
Giving evidence Dr Reinhardt, a registrar at the hospital, said she accepted that on the evening of 9 November Hayley's condition had worsened, but stressed that steps had been taken.
She said: "I acknowledged Hayley was not progressing and, even more, that she was deteriorating.
"The signs were not ignored. On November 10 Hayley had the full attention of the team. On that day her deterioration had been acknowledged and measures were put in place.
"Although it is a busy ward I had focused on Hayley that day quite a lot."
The doctor said blood tests were taken, physiotherapy was arranged and Hayley was given oxygen. She was also fed through an IV tube to conserve energy and tested for any possible viral illness.
'Isolate patients'
Dr Reinhardt said: "I felt, and the team felt, that we had implemented the measures and she should get better with that."
She said the baby did improve a little on 10 November and that she had since questioned how she died the following day.
Asked how her condition deteriorated to such an extent that she was dead about eight hours after last being seen by Dr Reinhardt, the registrar said: "I have been asking that question myself.
"Looking at all the parameters that day everything shows me towards some degree of improvement."
She refuted claims by the girl's mother, Paula Stevenson, that Hayley's treatment had been adversely affected by her being placed into an isolation room.
Dr Reinhardt said: "If we isolate patients we don't give them less care."
The inquest was adjourned until Thursday.