Agreement reached over Brierley Hill rubbish pile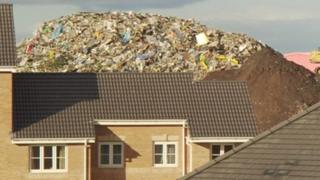 An agreement has been reached between the Environment Agency and a firm responsible for a pile of rubbish which towers over homes in the West Midlands.
RDF (Refuse Derived Fuel) Ltd has been given until 15 June to reduce the pile in Brierley Hill to no higher than 8m (26.25ft).
A way forward acceptable to both parties has been agreed, Sanders & Co, law firm for the company, said.
The agency said it was pleased with the outcome after a High Court hearing.
An agreement which was made during informal talks was ratified at the hearing in Birmingham on Thursday.
Residents claim the pile, made up of household and industrial refuse, is a health hazard. The agency said it was about 13m (42.65ft) high.
It had planned to get a High Court injunction preventing the firm from bringing any more rubbish on to the site in the Black Country.
A directions hearing has been scheduled for 18 June to ensure the agreement has been complied with.
Environment manager for the agency David Hudson said: "We now have a timetable for reducing the waste on the site.
He added: "This commitment before the High Court ensures that the operators must now tackle the problem.
"The residents of Brierley Hill can now expect to see real progress in the very near future."