Meriden Gypsies challenge High Court judge decision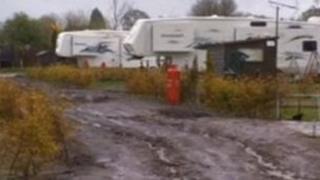 A group of Gypsies in the West Midlands has lodged an appeal against a decision by a High Court judge.
Eight caravan pitches were put up in Eaves Lane, Meriden in April 2010.
Head of the group Noah Burton said they had lodged the appeal against the earlier decision which said they could not appeal against a previous decision asking them to vacate the site.
Solihull Borough Council said the Gypsies needed to leave and any appeal was up to the government.
The council had refused to give them retrospective planning permission, a decision upheld by the Secretary of State Eric Pickles in October last year.
'Lobby parliament'
In March the Gypsies reached an agreement with the council that would see them leave the greenbelt site by March 2013.
Mr Burton said: "If there's no other legal process to go through then we will move, we won't work outside the legal process... we've been working with the council to find somewhere else that we can swap to for eight months now and that's not getting solved."
The council spokeswoman said they were not in a position to comment on the matter further.
Campaigners opposed to the Meriden site have criticised the Gypsies latest appeal.
Spokesman for Residents Against Inappropriate Development (Raid) in Meriden David McGrath, said the Gypsies were "brazenly exploiting the legal aid system and that he would personally lobby parliament to end such exploitation".
Members of RAID set up their own protest vigil against the Gypsy site in April 2010 and they too have been asked to leave.