Emma Winnall: Bed attack woman interviewed by police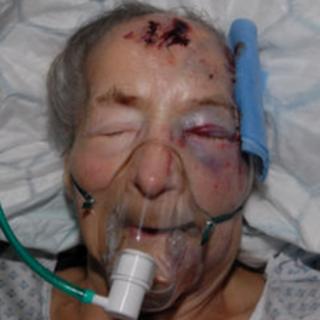 A 93-year-old woman who was attacked in her bed has told police she remembers the assault and is "struggling to understand" why she was targeted.
Emma Winnall was interviewed in hospital on Saturday by officers.
She suffered a fractured skull, a broken arm and wrist and a partially severed finger in the attack at her home in Pensby Close, Birmingham.
It happened some time between 21:00 BST on 30 April and 09:00 BST on 1 May, when she was found by her carer.
The attack has been described by detectives as sickening and senseless.
'Misguided loyalties'
The grandmother has been sedated for much of her time in hospital, where she has had metal plates inserted into her arm.
Det Ch Insp Sab Johal, of West Midlands Police, said: "Officers who are specially trained in interviewing vulnerable victims such as Emma spoke to her as she recovers in hospital.
"While the content of that interview is private, I can say that she can recall the incident and explained just how frightened she was during this senseless attack.
"Like the rest of us, Emma is also really struggling to understand why someone would do this to her.
"She is not a rich woman and has lived in the area a long time. From what we can tell, she was also well liked by neighbours. We need to know who did this to her.
"This is no time for misguided loyalties. If someone knows who did this to Emma, they must tell us."
Police said there were no signs of a break-in at the house and nothing was stolen.
Anyone with information has been urged to contact West Midlands Police or Crimestoppers.