Fire crews tackle factory blaze in Coventry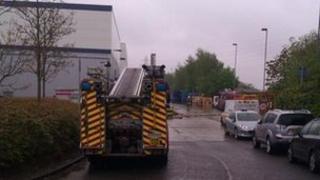 Fire crews have tackled a blaze at a factory in Coventry.
West Midlands Fire Service were called to UYT, a factory that manufactures car components, on Renown Avenue in Canley at 13:02 BST.
Crews used Co2 extinguishers to tackle the fire, which is believed to have started in an electrical switch room at the unit,
The building was evacuated as a safety precaution. Firefighters remain at the scene.
A spokesman for West Midlands fire service said they were able to put out the fire quickly because the factory had fitted sprinklers.