West Midlands Police using mobile fingerprint scanners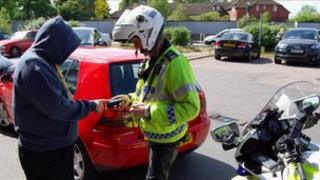 A scanner that can take fingerprints from people on the street is being introduced by West Midlands Police.
The force has bought 70 of the handheld scanners, which are linked by satellite to a national database.
The device will only used to check prints and will not permanently store scanned images, a spokesman said.
Roger Smith, director of the law reform group Justice, said: "The danger is that it will lead to the routine taking of fingerprints."
He said that officers would need to be properly trained and supervised to ensure that people were not routinely stopped, searched and fingerprinted.
Police said the handheld device had been tested in east Birmingham for several months.
'Cut bureaucracy'
During the trial, officers responding to complaints about a beggar discovered a man who was wanted in connection with a murder in Spain after taking his prints digitally, a spokesman said.
The force said the device would cut bureaucracy and save police hours by keeping officers out on the streets rather than taking suspects through the usual custody procedures.
Ch Insp Darren Walsh said: "Traditionally, if officers had suspicions about an individual, we'd need to take them to a police station, go through the custody process and fingerprint them at the station which could take hours."
The scanners are currently being used by 23 forces across England and Wales, according to the National Police Improvement Agency.