Electric vehicle 'may bring jobs' to West Midlands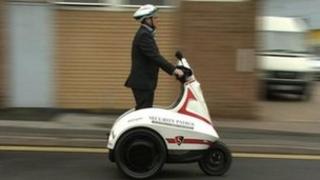 A new three-wheeled electric powered vehicle (EPV) will create new jobs in the West Midlands, say the makers.
Brothers Paul and David Loomes say the road legal "Raptor" has zero emissions and can travel up to 25mph (40km/h).
The brothers, who have created the firm Ecospin Ltd in Leicester, envisage the vehicle being used for security patrolling and by police and airports.
The firm expects to assemble the EPV in the West Midlands and get up to 80% of parts in the region.
Suppliers include Birmingham-based FW Cables, which has developed specialist wiring looms for it.
David Loomes said: "A standard model will be about £6,000 and we'll be pitching it to police, security companies, postal service, theme parks, event management firms and airports."
The brothers say they have tapped into support from the Midlands Assembly Network, a collaboration of 10 manufacturing firms.
They put £1.2m of their own funds into developing the Raptor and more than two years into developing it.
Ecospin said there had been interest from the Metropolitan Police as well as firms in Dubai and Singapore.
The firm is initially making 60 vehicles.