Q&A: How do we tackle TB?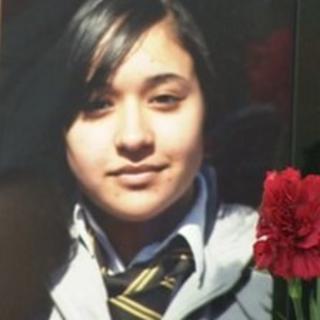 A coroner has ruled a West Midlands teenager who contracted tuberculosis (TB) died from natural causes and that neglect played a part.
Alina Sarag, 15, from Sparkbrook, was diagnosed with the infection and died in January last year.
Coroner Aiden Cotter said it was a "gross failure" of Alina's GP, Dr Sharad Pandit, not to refer her for tests to determine whether latent TB had become active.
Her father Sultan Sarag has described the care she received as "atrocious" and said not enough was done by medical professionals to prevent her death.
The Health Protection Agency (HPA) said the West Midlands has the second highest number of cases of TB in the UK.
What is TB?
TB is a bacterial infection which primarily affects the lungs.
It can be spread when someone with the infection coughs, sneezes or talks and another person breathes in the bacteria. However, prolonged contact is usually needed for infection to occur.
Some people develop a minor infection, which then settles as their immune system fights it. Evidence can sometimes be seen later as a scar on a chest X-ray.
For others, active TB flares up many years after the initial infection. If the initial infection is not fought off, it can progress to serious ongoing infection a few weeks after the first contact.
How prevalent is it in the UK?
A recent report by the HPA said the number of cases of multi-drug resistant tuberculosis in the UK is increasing. There were more than 8,473 diagnosed cases in 2010.
The West Midlands had 878 cases, the second highest proportion of cases after London.
Who can be vaccinated against TB and when?
TB vaccines are available but not compulsory and the BCG vaccination is only recommended for children up to the age of 15.
The HPA said each health trust makes its own decision about whether to vaccinate against TB.
Birmingham and Solihull NHS Cluster recommends the BCG vaccine be given to infants and children up to and including the age of five. A spokeswoman from the cluster said about 5,000 children are vaccinated against TB each year at birth, with 99% done at maternity units.
It also said that in Birmingham, approximately 99% of people from abroad are already vaccinated against TB.
What happened to the second round of vaccines that were available to older children?
Previously, 13 to 16-year-olds were tested by the school nursing service. Three days after an immunity test, they would find out the result and if necessary they would be given a BCG injection.
This system was changed by the Department of Health in 2005 because it "had several weaknesses", according to the Birmingham and Solihull NHS Cluster.
The cluster's director of public health Nicola Benge said: "No children, even those at high risk of contracting TB, benefited from BCG during the first 13 years of life and it could also be argued that many children who were very, very unlikely to benefit from BCG were needlessly given the injection."
She said the system was changed to ensure all children who might benefit from BCG immunisation are offered protection on the day they are born, which is much more efficient.
Why was it changed?
The decision to scrap the second round of vaccinations was "entirely sensible, logical and scientifically proven," according to Prof Peter Ormerod, chair of the joint TB committee of the British Thoracic Society.
He said: "What was stopped was giving the BCG and vaccine to a very large number of people and the BCG is not 100% effective anyway - at best it's got 75% protection and only lasts for 10 years.
"It adds very little benefit and was costing the Department of Health millions of pounds.
"The changes were supported by everybody involved in TB control, including the HPA and the Thoracic Society."
Mr Sarag has called for more vigilance in schools and vaccinations to be reintroduced.
Prof Ormerod said: "As far as I understand the changes would have had no bearing on this case, she would have been offered BCG at birth, as would have other people at the school."
What else is being done to help reduce the spread of TB in the West Midlands?
A new migrant screening clinic in Finch Road, Lozells, was set up by the cluster last year.
A spokeswoman said the cluster runs TB campaigns aimed at people from different parts of the world who have recently moved to Birmingham and a collaborative system with the immigration authorities was put in place last year.
This involves the authorities sending information about potential patients who they think are from abroad and will be settling in Birmingham. These patients are then sent a routine appointment to attend the Finch Road clinic to get vaccinated.
The cluster is also working with the HPA to decide whether another similar clinic should be opened in another area of Birmingham.
GPs in the Birmingham area have all been given refresher training for dealing with TB, according to the cluster.
Prof Ormerod said the BCG is the least important part of TB control.
He said: "It's all about treating it and preventive screening in order to identify people who are vulnerable."
He also said the government needs to spend more money investing in TB services and that most areas in the country have inadequate numbers of TB nurses.