Birmingham TB victim Alina Sarag 'given bulimia warning'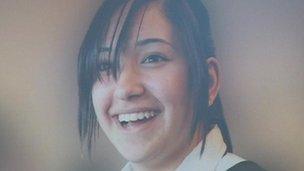 A 15-year-old girl died of tuberculosis (TB) after being told she may have bulimia during appointments with health professionals, an inquest has heard.
A GP allegedly advised Alina Sarag, who attended Birmingham's Golden Hillock School, that her physical deterioration was due to mental health problems.
Alina was treated for TB after being diagnosed with the disease in 2009, Birmingham Coroner's Court heard.
She appeared to recover from the condition, but died in January 2011.
Her father, Sultan Sarag, said she was left broken-hearted after being told she needed to see a psychiatrist or even a spiritual healer.
Giving evidence, he said Alina became unwell after she returned from a holiday to Pakistan in August 2010.
The teenager, from Sparkbrook, Birmingham, was treated at four hospitals in the West Midlands between August and October of 2010 as she lost weight and suffered from repeated vomiting.
In a statement read by coroner Aidan Cotter, Mr Sarag confirmed his daughter had been treated for TB after being diagnosed in March 2009 during screening at her school.
The girl appeared to recover and was discharged from a chest clinic in October 2009.
But she went to see a GP six days after she had returned from Pakistan and a series of visits to hospitals, health centres and the doctors' surgery then followed.
During a visit to Birmingham Children's Hospital in October 2010, the inquest heard, Alina was barely able to walk and her father told staff he was worried that her TB had "reactivated".
Mr Sarag said: "I knew something was not right as she was in such a poor state but couldn't get anyone to listen to me."
Alina returned to her GP's surgery towards the end of October and was told she may have bulimia and would need to see a psychiatrist, the inquest was told.
Mr Sarag said the diagnosis "totally broke her heart".
He added: "No-one bothered listening to us."
The father described the diagnosis of possible mental health problems as "absolute nonsense".
The hearing was adjourned until Tuesday.
Related Internet Links
The BBC is not responsible for the content of external sites.