Birmingham's Wholesale Market to see £1m repairs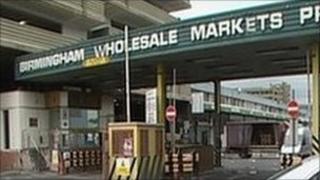 A total of £1m will be spent on Birmingham Wholesale Market to keep it at its current location for at least three years, it has been revealed.
The city council said "essential" work was needed on market buildings.
The outgoing Conservative/Lib Dem coalition wanted to move the market as the buildings were "not fit for purpose", but allocated the funding as a temporary measure.
However, traders fear they will have to foot the bill for the work.
Peter Marshall, chairman of Birmingham Wholesale Fresh Produce Association, said: "We feel that the £1m will be put on our service charges over the next few years."
But he added discussions with the council over the financial implications and the market's future were at "an early stage".
'Preferred option'
Birmingham City Council, which officially becomes Labour-controlled next week, said the £1m on urgent repairs would keep the buildings "at a minimum standard to bridge the gap to an agreed solution taking place".
It is considering feedback from its consultation with traders and a number of long-term options.
"The remedial work gives the council time to reach the best possible long-term decision for all concerned," a council statement said.
Mr Marshall agreed work was needed on the Pershore Street market, particularly on the roof which leaked when it rained.
He said staying at the site was traders' "preferred option".
"Or if we move in the next few years we don't want to waste money putting money into this place," he said.
Stallholders marched through the city centre last September in protest over the uncertainty of market relocation plans.
At the time, a proposal to move it to a site in Witton had fallen through and the council has been looking for other sites.