Birmingham street patrol Faith Watch 'not replacing police'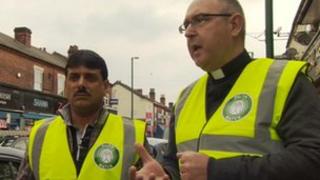 Faith leaders involved in a West Midlands project aimed at reducing crime and anti-social behaviour are not replacing officers, police have said.
The Faith Watch scheme in Washwood Heath, Birmingham, has been going since March and is a partnership between communities and different faith groups.
Similar street patrols already operate in other parts of the country.
A spokesperson for West Midlands Police said it was not a case of the community carrying out the force's work.
Sgt Richard Evans said: "It's about the community who've earned the respect from their fellow residents challenging inappropriate behaviour and making that difference.
"It's somebody that they've lived next door to for 20 years. They've watched the kids grow up.
"That's going to gain more respect than a police officer that's been working in the area for six months or two years."