Search after Sparkbrook factory fire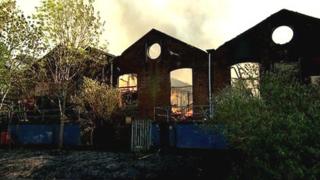 A search is continuing to check if anyone is inside a Birmingham furniture factory which was gutted in a fire.
About 100 firefighters were called to Direct Furniture Choice Ltd in Montgomery Street, Sparkbrook.
The blaze, which began on Tuesday, was caused by sparks created during metal-cutting, the fire service has said.
A police search dog is being used at the gutted factory following reports of people going inside as crews tackled the blaze.
Damping down at the site ended at about 20:40 BST on Wednesday.
The fire service said on Thursday morning it was due to complete a search of the site and affected premises.
Members of the public had told firefighters they believed they saw people going into the warehouse, the service has said.
Acting assistant chief fire officer Dave Walton has said: "Although the reports of a person being involved are unsubstantiated, we will treat the information with the utmost seriousness until we can prove otherwise."