Ethnicity of Birmingham City Council's cabinet defended by leader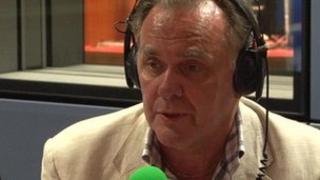 Black councillors hold important roles within Birmingham City Council despite being absent from the cabinet, the leader of the authority has said.
Only one of the six cabinet members, Asian councillor Tahir Ali, comes from an ethnic minority.
Almost 40% of the 120 seats are held by councillors from ethnic minorities.
Sir Albert Bore said the black and minority ethnic (BME) community within the Labour group "take on 38% of the posts that were on offer".
He said: "I haven't appointed a black member to the cabinet. In some ways I'm sorry that that is the position but it's my judgement on this.
"You cannot measure this in terms of the cabinet alone.
"You have to look at this in terms of the various roles and responsibilities that have been taken on.
"We have now reconstructed the way in which the city council is going to operate.
Council house protest
"A number of the functions of cabinet members have been taken away from those cabinet members and are now in the hands of district committees, these are the 10 constituencies of Birmingham.
"There is a chair of one of those district committees who is a black member of the Labour group.
"Please let's not diminish the role and responsibility that that person will have.
"They're not on the cabinet but they're cabinet attending... and will be able to participate in the discussions."
Last week about 30 people protested outside the council house as the cabinet was sworn in.
The Reverend Carver Anderson helped organise the gathering because he said he believed the African Caribbean community was under represented.
He said: "The cabinet is the strategic hub for authority and power in the city of Birmingham and there's no African and Caribbean personnel on that hub."
Mr Anderson said he was prepared to work with Sir Albert to address the issue and added that the cabinet should be expanded to include a more diverse range of councillors.