China HIV medics visit Birmingham's Heartlands Hospital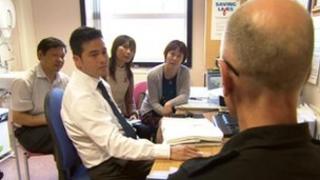 Doctors in the West Midlands have been helping their Chinese counterparts tackle HIV amid fears of an epidemic.
Research last year showed HIV-related deaths had decreased in China but many victims are believed to go undiagnosed.
A delegation from the 6th People's Hospital in Zhengzhou, Henan, visited Birmingham's Heartlands Hospital and took part in a teleconference.
Medical experts at Heartlands were able to offer "constructive advice" to those in Henan province.
Dr Stephen Taylor, lead consultant at Heartlands HIV Service, said the UK had made bigger advancements in controlling the virus.
He said: "I think the epidemic in Henan province started in 1995. In the UK it started in the early 80s.
'Reducing stigma'
"Some of the medication they currently have is what we had a short while ago.
"We've got a lot of experience in dealing with HIV drug resistance and dealing with issues such as that.
"In the West Midlands, one in four people who have HIV don't actually know that they've got it and if they don't know that they've got it they can't get life-saving treatment.
"The same thing happens in Henan but it's probably even higher.
"We know that there's some diagnosed HIV there but probably the amount of HIV is far, far higher than anybody actually realises.
"So it's about health promotion and getting messages out there and trying to reduce stigma.
"Stigma's still a huge problem in our country and it will be the same in China as well."