Crimewatch appeal from disabled man robbed at gunpoint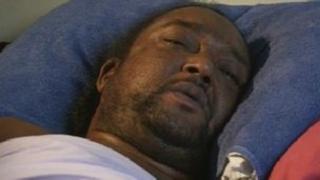 A disabled man who was robbed in his home at gunpoint will make an appeal on the BBC's Crimewatch programme in an attempt to find his attackers.
Noel Martin, 52, and his two carers were threatened by three men at his home in Edgbaston, Birmingham, on 20 February.
They forced them to open a safe, taking £1,000, a watch and an engagement ring belonging to Mr Martin's dead wife.
"One pointed a gun at me and said 'where's the money?'," Mr Martin said.
"They didn't take any care at all to think I could just jump out of the bed," he added.
Mr Martin was disabled by injuries he received in a racist attack in Germany 16 years ago and now requires 24 hour care and cannot get out of bed.
'Terrifying ordeal'
One of his carers was kidnapped by the three men in nearby Smethwick as she returned home following a shift and forced to drive to back to Mr Martin's house.
She was tied up but managed to run out of the house and shout for help.
The men escaped in a silver Honda Civic, which was found abandoned in Handsworth a short while later.
West Midlands Police said they had carried out "extensive investigations" and now needed help from the public.
Det Con Ian Tomlinson, who is leading the investigation, said: "This was an absolutely terrifying ordeal for Noel and his staff who, although unhurt, were left extremely shaken by the events which took place that night.
"I hope the appeal will demonstrate how frightening this robbery was for all of the victims involved and will prompt anyone who knows who did this to do the right thing and call police."
Crimewatch can be seen on BBC One at 21:00 BST on Thursday and afterwards on the iPlayer.