London 2012: Centre 'crucial' in attracting US team to Birmingham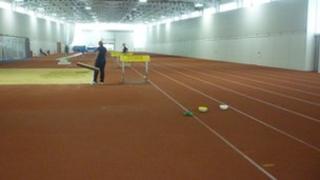 As Birmingham prepares to host the US Track and Field team ahead of the Olympics, top UK Athletics (UKA) coach Aston Moore is stressing the value of the city's "High Performance Centre".
Launched in 2003, ahead of the World Indoor Championships, the £3.3m indoor facility at the Alexander Stadium site includes an eight-lane 110m track, a gym and a medical suite.
And the centre - a "really unique selling point for Birmingham" - has been "absolutely crucial" in attracting the US Track and Field team to the area, according to the council.
Moore, 56, coaches 2008 Olympic silver medallist and 2009 World champion triple jumper Phillips Idowu.
Although he also guided Commonwealth gold medallist Ashia Hansen to a world record, Moore remembers the toil before the indoor centre - complete with solar panel roof - was built.
"There [were] occasions over the Christmas where we've come in and to get a technical session done, we've had to clear the snow from the track for two hours before we could actually begin our session.
"Not to have it [the centre] would probably mean performances would probably fall for a lot of people," he said.
'Inclement weather'
Asked about the centre's benefits for the city, council assistant director for sport and events Steve Hollingworth said: "Without it we wouldn't be able to hold international events.
"You can create a base here for athletes, which again brings profile to the city."
He said it had been instrumental in getting the US athletes into the region, "because they were looking for a facility which could offer them an outdoor track, but also if it was... inclement weather, they could continue training indoors".
The facilities include high jump, long jump, triple jump and pole vault areas, as well as a so-called indoor throws cage - a large net for discus, hammer and shot put.
A rubber tip can also be put on a javelin for people to throw it into an indoor javelin net, similar to a big curtain, which can come down from the ceiling.
An invisible beam on the wall every 10m records speeds on the track.
While elite athletes use the regional centre during the day, clubs such as Birchfield Harriers are at the venue in the evenings, so up to 300 people benefit each week.
Describing the site as a "huge, huge feather" in Birmingham's cap, Moore added: "The English Institute of Sport also have on site here doctors, physiotherapists as well as soft therapy massage - soft tissue therapy.
"We also have access to people who would give us advice on nutrition.... It's almost like a one-stop-shop of what they [athletes] need to deal with to be at their best."
'Podium level funding'
Progress has also been made outdoors at the Alexander Stadium.
A new 5,000-capacity stand went up last year, taking the stadium capacity to potentially 15,000, and it will host its second Diamond League meeting - featuring leading athletes in the world - on 26 August.
The Birmingham High Performance Centre has four lottery-funded UK athletes who receive so-called "podium level funding... focussed entirely on achieving medal success and top eight finishes" at this summer's Games.
Triple jumper Nathan Douglas, middle distance runner Hannah England and long jumper Shara Proctor fall into that category along with Idowu.
While the Jamaican Track and Field team will use the University of Birmingham, about 100 from their US counterparts are due to be based at the Alexander Stadium site from 16 July.
Moore said: "Gone are the days when the UK.... could sort of rely on middle distance and long distance for its successes.
"Now it's successful right across the board, which includes the speeds and the jumps."