Thousands expected at Birmingham Pride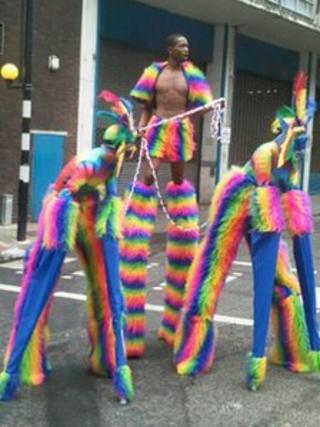 Organisers are expecting up to 100,000 people to attend Birmingham's annual two-day Pride festival.
A carnival procession set off from Victoria Square at midday, finishing in the city's gay village.
Free live entertainment was provided by acts such as The Saturday's and Judge Jules in Chamberlain Square.
To launch the event a £15,000 rhino covered in rhinestones has been installed in the city's southside area.
The "Rhinestone Rhino" is on top of Wynner House at the junction of Hurst Street and Bromsgrove Street.
A spokesman said the sculpture, which aims to reflect the city's jewellery-making history, has a "heart" inside containing music, photos and videos provided by the community.
The joint theme is the Diamond Jubilee and the 'It gets better campaign' a scheme to help victims of bullying.
This year's Pride festival coincides with the city's Diamond Jubilee celebrations which got under way with a concert by the City of Birmingham Symphony Orchestra on Friday evening.
Other events on Saturday include a Spring Festival at Cannon Hill Park with arts, nature trails and 1950s-themed entertainments.