Diamond Jubilee parties held across West Midlands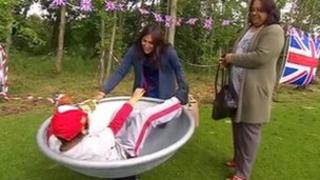 Diamond Jubilee street parties continue to be held across the West Midlands with a number of beacons lit.
Residents in Caldmore, an area of Walsall recently awarded village status, attended a festival while the bunting was up in Knowle High Street.
Another event was held at the Black Country Museum in Dudley.
A beacon was lit at the Shri Venkateswara Hindu temple in Tividale where families have taken part in a fun day.
Chairman of the temple, Narayana Rao, said: "It's a very great occasion and she's a very great personality and great queen.
"She really knows so much about the other faiths and other cultures and she relates to that and talks to us.
"We are showing our love, respect and loyalty to her and to this country. "
See all the latest Diamond Jubilee news and features at bbc.co.uk/diamondjubilee