Lottery helps fund for Sir Joshua Reynolds painting in Birmingham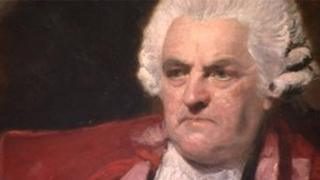 A Heritage Lottery grant of £675,000 has given a boost to a campaign to secure a painting for a Birmingham gallery.
The painting by Sir Joshua Reynolds of Dr John Ash, founder of Birmingham's first hospital, is being sold by the Queen Elizabeth Hospital.
Birmingham Museum and Art Gallery is asking the public to help raise the last £50,000 of the £900,000 needed.
The hospital will use the money to buy a radiotherapy machine.
Fundraising appeal
Dr Ash founded the General Hospital in Summer Lane in October 1779, which was later rebuilt in 1897.
The painting shows the hospital and its plans, and originally hung in the boardroom.
When the General Hospital closed, its assets passed to the Queen Elizabeth Hospital.
Director of Birmingham Museums, professor Ann Sumner, said: "We are absolutely delighted that the Heritage Lottery Fund (HLF) has supported us in the acquisition of this significant work.
"This is a great boost for Birmingham Museums and we hope through a successful public fundraising appeal we will be able to keep this impressive painting on display at Birmingham Museum and Art Gallery."
The painting is currently on loan to the museum.
In addition to the £675,000 from the HLF, Birmingham Museums has raised £175,000 through grants from organisations, including The Art Fund, the Museum Development Trust and the Friends of Birmingham Museum and Art Gallery.