Funding cut for Dell Meadow community centre in Druids Heath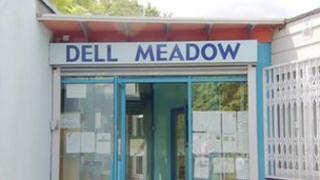 A centre providing support for carers in Birmingham is facing the threat of closure after its funding was axed.
Grants for the Dell Meadow Family and Community Learning Centre in Druids Heath have been halted by the Birmingham and Solihull NHS Cluster.
The centre offers courses, advice and a carers group, which provides support for around 50 families.
The NHS was not able to confirm what would happen to the families after the centre closes.
Jane Thomas, from Yardley Wood, is a mother to two autistic children who attend the centre.
Concern for families
"Dell Meadow is a lifeline, not only for the children, but also for the parents and the carers," she said.
"It provides my son with a stable social group, which is what his conditions don't allow him to have."
Jane Norell, a manager at Dell Meadow, said: "We're a friend and a family unit and if this didn't exist I would worry about some of the parents that we've got that come here.
The Birmingham and Solihull NHS Cluster comprises the Heart of Birmingham Teaching Primary Care Trust, NHS South Birmingham, NHS Birmingham East and North, and Solihull Primary Care Trust.
In a statement it said its contract with Dell Meadow was reviewed in 2011.
The statement went on to say it "carefully considered the impacts" but could not say where the families who currently use the site will go for alternative support.