Dental hospital plans reach second stage at Pebble Mill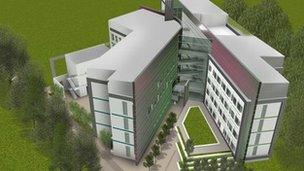 Plans for a dental hospital and school of dentistry at Birmingham's Pebble Mill have been approved by the government.
The £30m proposals have passed the first of a two-stage planning process which could see construction start in winter 2012/13.
The Department of Health is unable to say how long a full decision will take.
Pebble Mill was the site of BBC Birmingham, hosting programmes such as Top Gear, until it closed in 2004.
The hospital, one of 10 of its kind in England, will deliver the same services as the current dental hospital at St Chads Queensway.
The plan is led by Birmingham Community Healthcare NHS Trust with the University of Birmingham, Birmingham and Solihull Local Initiative Finance Trust and Calthorpe Estates.
The hospital currently treats around 115,000 patients a year and expects to increase to "more than 120,000 people" a year, said the finance trust.
Rick Roberts, medical director for the trust, said: "The existing hospital has a strong international reputation for specialist care.
"It is anticipated the investment in this new facility will add to this reputation, especially considering a comparable facility has not been constructed within the last 40 years. "
If plans go ahead, staff and students are expected to move to the new hospital in 2014.
Related Internet Links
The BBC is not responsible for the content of external sites.