New Street Station: Work starts on flagship store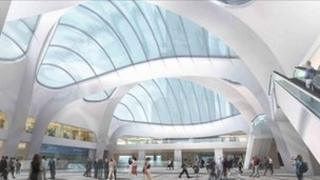 Work has started on a flagship store as part of a £598m redevelopment in the centre of Birmingham.
The regeneration around New Street Station includes a John Lewis department store, which is due to open in autumn 2014.
The 250,000 square foot shop, one of the largest outside of London, is expected to create 650 jobs.
The first stage of the new concourse is due to open in April 2013, to allow the redevelopment of the current concourse.
The scheme, which aims to double passenger capacity, will see eight new entrances and improved passenger access.
Birmingham City Council Leader Sir Albert Bore said: "It will look fantastic. People will feel in a comfortable area, rather than sardines in a can."
The John Lewis store is being built almost exactly on the site of Stevenson Tower, which was demolished last year.
A revamped Pallasades shopping centre is also expected to open in 2014, with the full project completed in 2015.