Flash flooding: West Midlands roads affected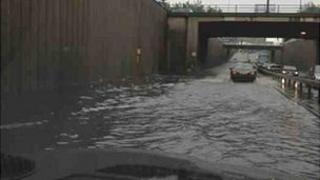 Flash flooding has caused disruption across Birmingham and the Black Country.
The A38 Aston Expressway at Lancaster Circus in Birmingham was closed due to flooding but has since reopened.
West Midlands Fire and Rescue had about 400 calls over two to three hours as rain and thunderstorms struck. Most were from people trapped in cars and their homes.
Birmingham Airport diverted a number of flights due to the weather.
The Met Office issued a weather alert for the West Midlands.
'Held on to furniture'
Two elderly women were rescued in Tettenhall in Wolverhampton after flood water knocked over a wall on an embankment causing a torrent of water to pour down into their ground floor flats.
Margaret Mackie said she had held on to furniture as the water came in and her home was ruined in about 10 minutes.
"I shut the front door and leant against the door to try to stop water coming in but it was so forceful that I couldn't hold it any longer so I ran into the lounge and it just burst the front door open and it all rushed in," she said.
"I was holding on to the furniture hoping it wouldn't go out the window."
Waseley Hill High School in Rubery closed on Thursday morning due to flooding in some of its buildings.
Hagley Road in Birmingham also suffered a flash flood and two elderly people were rescued from a car in Barnes Hill by firefighters after it became stuck in 1m (3ft) of water.
Another man became trapped in a car at the Rock Hotel in Tettenhall after he was unable to open his door due to the water.
Cross Country trains suffered delays to services running on the line between Birmingham and Redditch due to flooding while Chiltern services were hampered by speed restrictions caused by the weather.
Railway lines in both directions were blocked for several hours after flooding at Old Hill Tunnel in Rowley Regis. The line has since reopened but London Midland said services would be delayed.
The Environment Agency issued flood warnings for the River Rea at Stirchley, Edgbaston and Vauxhall, Saltley and Nechells.
A spokesman for the agency said some parts of the area had an inch-and-a-half of rain in less than two hours.
He said the River Rea had risen by 1.5m (5ft) in 90 minutes.
Vif Randeniya, chief officer of West Midlands Fire Service, said overall, his teams had coped but they may not be able to once budget cuts had been implemented.
He said: "These are things were can easily deal with, but if you ask me that question in two years time after cuts have taken effect then the answer will be very different."
The service is facing potential funding cuts of up to £30m.