Floods: Some West Midlands schools closed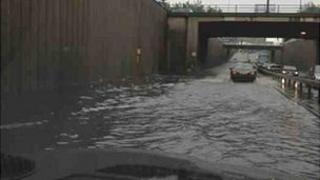 At least 10 schools in the West Midlands remain shut or partially closed as a result of flooding after heavy downpours on Thursday.
Mapledene Primary School, Sheldon, Four Dwellings Primary School, Birmingham, and Aldersley High School, Wolverhampton, are among those closed.
Firefighters received about 400 calls over two to three hours on Thursday as rain and thunderstorms struck.
Most calls were from people trapped in cars and their homes.