Poundland profits increase by 27%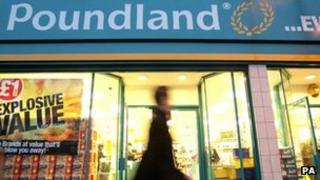 Discount retailer Poundland has posted a 27% increase in annual profits, while its turnover rose by 22% to £780m.
The Willenhall-based company opened 62 stores last year and said it planned to open "60 plus" this year, creating about 2,000 jobs.
The firm, which has been running for 22 years, now operates more than 400 stores nationwide.
Chief Executive Jim McCarthy said the firm's success was due to its size and "checkout transparency".
"If you buy five products, it can only be £5. I think that the certainty and the ability to budget have an appeal," he added.
The retailer said it had also seen an increase in the number of more "affluent" customers looking to save money in difficult economic times.
Mr McCarthy said Poundland's expansion had also given it greater power when negotiating deals with manufacturers.
He said the firm had been able to reduce a number of its costs in areas such as distribution.