Meriden protest group vows to challenge Gypsy application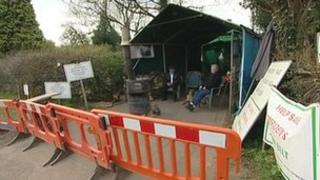 Protesters involved in a long running dispute over an illegal Gypsy site in the West Midlands have pledged to fight the latest planning application.
Noah Burton, a member of the travelling community, has applied to the council to continue using the land he owns in Meriden as a builder's yard.
Residents Against Inappropriate Development (Raid) is raising £3,000 to pay a consultant to fight the plans.
Eight caravan pitches were put up in Eaves Lane in April 2010.
'Status quo'
David McGrath, spokesman for Raid said the group has raised half the money needed to pay for a planning consultant to challenge the application.
He said: "We're here to protect the greenbelt and if they're successful it will simply be another stepping stone for the Gypsies to apply for another site."
Members of RAID have held a vigil against the Gypsy site since April 2010 and they too have been asked to leave by the council. Monday will mark 800 days of their protest camp.
Mr Burton, who owns the land next to the site the Gypsies currently occupy, said the planning application had been submitted to maintain "the status quo".
He said: "If I don't get a legal certificate for this land I'll lose it, I rent the land to local builders and to store general building materials.
"I'm not trying to create something else, it's just the status quo."
The Gypsies have reached an agreement with the council to leave the greenbelt site by the end of March 2013.
Mr McGrath said the council is holding a meeting later this month to decide what will happen to the protest camp.
He said: "We are not for moving until the travellers go."