Ian Brazier sentenced for pulling niqab veil from Muslim woman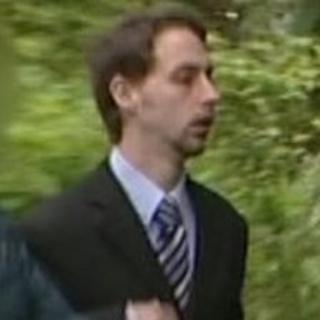 A man who pulled a niqab veil off a Muslim woman at a shopping centre in the West Midlands has been given a suspended prison sentence.
Ian Brazier, of Shirley, Solihull, had admitted racially aggravated assault after he tugged at Farhana Chughtai's hair in Touchwood, Solihull, in March.
Brazier, 26, was told to pay his victim £100 compensation and was handed a six-week sentence, suspended for 18 months.
Magistrates in Solihull also ordered him to carry out 250 hours unpaid work.
He was also directed to complete a diversity course.
Ms Chughtai said the attack left her feeling "violated and very distressed".
Brazier, of Berkeley Road, said he had been smoking cannabis and was "upset" at not being able to watch two films at a nearby cinema complex prior to the attack.
'No place for hate'
In a statement, Ms Chughtai said the crime had had a lasting impact on her.
She said: "Today I remain self-conscious and worry that the same thing may happen to me again.
"I am aware of other similar incidents in the West Midlands which have not been reported to police. This should not be the case.
"Victims should report these crimes as soon as they happen."
Ch Insp Kevin Doyle, from West Midlands Police, said: "Despite the shocking nature of this offence, reports of crimes like this are exceptionally rare both in Solihull and the wider West Midlands.
"When they are reported to us, I would like to assure victims that they are investigated thoroughly, professionally and victims treated with the utmost dignity and respect.
"Today's sentence shows that there is no place for hate in Solihull."