Discharged Tipton mum walks miles before home birth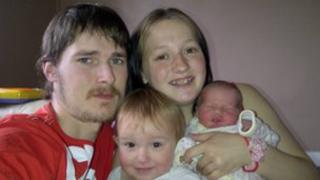 A hospital is investigating after a woman gave birth on her bathroom floor hours after walking five miles home because she had been discharged.
Katie Baker, 19, from Turton Road in Tipton, gave birth to her second daughter, Kelsey Jones, on Monday.
Ms Baker had gone to Walsall Manor Hospital at about 12:00 BST on Sunday and said she told staff she had no transport or money when discharged.
An NHS spokesperson said it was "carrying out a full investigation".
Ms Baker, who also has a one-year-old daughter with her partner Clint Jones, 25, said she waited eight hours to get on a ward on Sunday evening.
Paramedics deliver baby
Ms Baker said: "I've already had a child before so I knew that it was going to come soon but they still discharged me.
"I said 'the only way I can get home is walking and that's all the way in Tipton'. They said 'you still have to be discharged'."
Ms Baker, who has demanded an apology from the hospital, said it took over two hours to walk home because she had to stop for a break at a library in Wednesbury.
She added that paramedics eventually delivered the baby at about 17:30 BST and that they were then taken back to Walsall Manor Hospital.
The head of midwifery at Walsall Healthcare NHS Trust, Karen Palmer, said: "I am saddened to hear about this patient's experience in our maternity department.
"The trust is carrying out a full investigation into the concerns that have been raised on behalf of the patient and we will be happy to speak with the patient directly to try to address these."