London 2012: Wolves FC used for sniffer dog training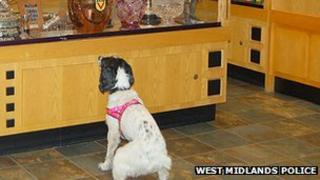 Sniffer dogs from West Midlands Police have been in specialist stadium training ahead of the Olympic Games.
Honey, along with three other specialist explosives sniffer dogs, has been training at Wolverhampton Wanderers' football ground.
The four dogs will be doing security checks in the City of Coventry Stadium during Olympic football matches.
Police said the training at Molineux Stadium was to prepare the dogs for "any eventuality".
"Over the last six months we've been training at high-profile venues to make sure our dogs are familiar with searching stadium environments," said dog training instructor PC Wayne Mellings.
Although the training was mainly based around searching for "potential explosive devices", the dogs are also trained to search for drugs, he added.
There are 20 dogs being used during the Olympics by West Midlands Police, with Honey amongst those prepared for stadium specific searches.
The City of Coventry Stadium will host 12 Olympic football matches, starting on 25 July with Japan's women's team due to take on their Canadian rivals.