West Midlands Police staff protest over 'privatisation'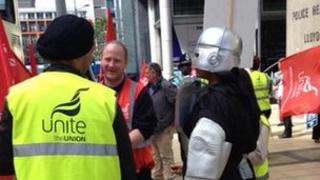 About 100 West Midlands police staff have protested in Birmingham against plans which they said would lead to the privatisation of the force.
In May, West Midlands Police delayed plans to contract out some roles to private firms until after the Olympics.
The force said the proposals would help to cut costs and would only affect "middle and back office" jobs.
Organised by the Unite union, the protest was held outside a police authority meeting at Lloyd House.
Unions, including Unite and Unison, said they were concerned that plans to outsource some roles to the private sector would put jobs at risk.
In March, the West Midlands and Surrey forces, acting on behalf of all forces, invited bids, thought to be worth £1.5bn, from private firms.
The proposals are expected to affect services such as 999 call handling, IT support and forensics.