Wolverhampton mechanic helps start Queen's car during Silver Jubilee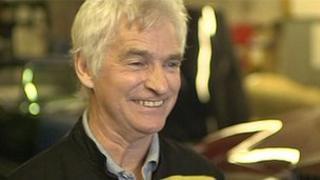 A Wolverhampton Rolls Royce mechanic thought it was a "wind up" when he was asked to fix the Queen's car after it had broken down in the West Midlands during a Silver Jubilee tour.
Fred Budd said he was asked by a colleague to go to the aid of the royal party in Walsall in 1977.
"The service manager of the garage I worked for came in in quite a panic saying 'quick Fred, get your tools - the Queen's broken down in Walsall'," Mr Budd said.
"I was eating my chips and jumped up.
"The biggest bug bear at the back of your mind is thinking if you get there and you can't do anything with it you're going to look a right plank."
The mechanic, who was talking 35 years on to mark the Queen's Diamond Jubilee visit to the region, said he established the problem was with a fuse that had blown in a fuel pump.
Treasured letter
But he suffered a minor embarrassment when he attempted to get the engine back up and running in front of the gathered crowds.
"[The car] started up and there was a roar and a cheer and a clap and I thought 'great' and then it stopped again," he said.
He did finally manage to start the motor a second time and later received a letter from the palace as thanks for his efforts.
Part of the letter read: "Your assistance resulted in the tour going along without delay and we are all most grateful for that help given by you and other members of your staff."
Mr Budd said: "I shall treasure [the letter], it's just one of those never-to-be-repeated opportunities and it could have been anyone in the garage that went that day."
The Queen and I: 60 years in the West Midlands was on BBC One on Saturday 14 July and can be viewed nationwide for seven days thereafter on the iPlayer.