Usain Bolt and Jamaican athletes arrive in Birmingham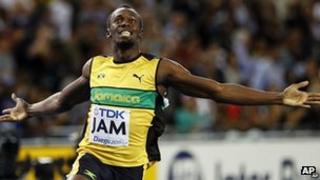 The first wave of the Jamaican Olympic track and field team have begun arriving in Birmingham.
Ninety per cent of the team have already made the journey to the Midlands, including world's fastest man Usain Bolt.
The team will be training at the University of Birmingham during the London 2012 Games.
The United States track and field team will also be training in the city.
Gary Peal, Training Camp Co-ordinator on behalf of Birmingham City Council, said: "I can confirm that we've got about 90% of the team safely accredited and relaxing into their environment for the next 10 days."
Asked whether that included the current men's world 100m champion, Mr Peal confirmed: "The great man is currently in our city."
Members of the public will not get a chance to see the team while training.
That is apart from a selected group of schoolchildren and members of athletics clubs who have been invited to a training session at the University of Birmingham on 25 July.
Mr Peal said: "They are primarily here to fine-tune their final preparations for London and that means mentally and physically."
He said it was important the athletes had a safe and comfortable environment allowing them to relax and "get their mind set on the great event that's coming up".
"That means that they need to have time to themselves and with their coaches to make their final preparations," he said.