Birmingham's poorest could be hit by tax benefits cut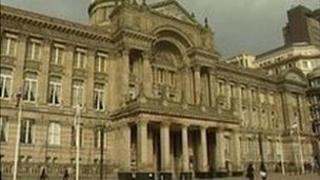 Some of Birmingham's poorest people may have council tax benefits reduced after government cuts, the council said.
The Labour-controlled authority said it expected a 10% reduction in the money provided by government to fund council tax benefit in 2013-14.
It said the council asked government to consider deferring the cut for a year.
The Department for Communities and Local Government (DCLG) said such benefit spending had more than doubled since 1997 and reform was needed.
Birmingham City Council said government cuts to funding council tax benefit had left the authority "with no choice" but to reduce benefits to some of the poorest families, further reduce services or increase council tax.
The authority added it would consult on "the available options".
It said the 10% cut in funding for council tax benefit was because of a government scheme that requires all councils to take responsibility for such benefit from April 2013.
The authority said it awarded about £100m of council tax benefit to about 135,000 households in 2011-12.
Deputy leader Ian Ward said: "The government has simply passed the buck, knowing full well that councils cannot afford to absorb the shortfall."
Under the council's preferred option for cutting council tax benefit, the elderly, families with young children and families with someone with disabilities would be protected - but other claimants would face a cut.
'Local needs'
A DCLG spokesman said the government was "not scrapping council tax benefit at all".
He said the government was putting councils "in charge of providing support so it can be administered in a way that best meets local needs and supports local people".
The spokesman said: "Spending on council tax benefit has more than doubled since 1997 and reform is needed to tackle the deficit, help people to move into and progress in work, while supporting the most vulnerable.
"These changes go hand in hand with wider economic reforms and will ensure the new system is a fairer one, where taxpayers can be more confident that spiralling benefits bills are controlled."
He said government was "making the system more affordable" and "better able to tackle unemployment and welfare dependency and creating the right incentives by ensuring work always pays".