Kittens found in car boot minutes before it is crushed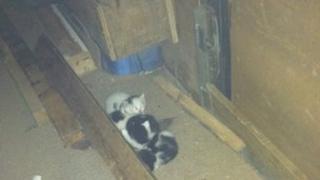 Four kittens have been found in the boot of a car at a Birmingham scrapyard, minutes before it was due to be crushed.
Workers at Taroni's in Aston discovered the animals in the back of a Porsche 944 on Thursday 12 July.
Stan Baldwin was checking the boot for a spare tyre when he noticed them on a pull-out parcel shelf.
Staff at the yard are now caring for the animals until they can be found new homes.
Mr Baldwin said: "We've seen a stray cat around here and she's the mum.
"We've taken advice so we're going to keep the cats until they're stronger."